Dublin Entrepreneur Wrestles With Success!
Have you heard of OSW Review? If you were nestled within the hungry niche market of Old School Wrestling, you would have.
OSW Review is one of the highest quality and most popular media products of its type, in the world. While it is watched almost everywhere, it is hugely popular in the USA, the UK and Germany, where hard core fans are consistently keen to seek out this kind of content.
It is the brain child of creator, Jay Hunter, and what started out as a labour of love transformed, through clever innovation, into a global business.
"I still look back in wonder", Jay says. "This started because I love this topic and I want to share it with the world. Now I make my living from it. It's crazy!".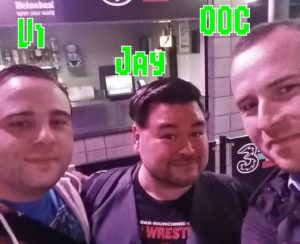 Jay originally began his professional life training to be a doctor, though quickly discovered that this just wasn't for him. With a love for Old School Wrestling and a desire to work for himself, Jay explored OSW Review first as a hobby, and later built a business model through which he could turn this hobby into an entrepreneurship reality.
Product & Distribution
OSW Review is an independently produced and entirely self-funded video podcast. Although he works with a small team, the main driver of this OSW vehicle is Jay himself. Its primary point of distribution to viewers is via YouTube. As Jay describes: "It is… The Old School Wrestling video podcast! We chronologically critique old WWF (WWE) Pay-Per-Views. We are a roundtable podcast, cut to VIDEO FOOTAGE of the event!"
Noise
It sounds great fun to create your own video podcast on your favourite subject, and even more fun to make your living from it. But how is it possible? With the internet equalising the essence of distribution, and media creation tools becoming more prevalent, there has been a significant increase in people putting out their own productions to the public. This, in turn, creates much "noise" in the industry, and it is no easy task to get noticed among this noise.
Jay's outstanding skills in this area are the key to OSW Review getting noticed. His production values are second to none. His professionalism and dedication bring him head and shoulders above any potential competitors. Blend this with superb knowledge of his subject matter, and also target market, and you can begin to see the reasons for his success.
Pareto Principle
After time spent honing his craft, how did he "flick the switch" from hobby to career? Nobody paid him to create OSW Review. No-one covered his living expenses as he got it off the ground. Nobody offered him a contract, and people could watch his video podcast for free.
So, how could he possibly turn a profit? Simple. He added a "Donate" button.
OSW Review consumers loved his output so much, that they literally put their money where their mouth is. It is a contribution made on a voluntary basis, and no one is refused viewership if they don't contribute. But yet they do.
They understand that if they don't pay something, it will end, and they will lose their beloved programme. Not everyone pays, and not everyone who pays does so equally. Some make small donations, and others are very generous. It appears the Pareto Principle is in play here, as it seems 80% of payments come from approximately 20% of the viewing people.
Success
The video podcasts themselves receive thousands upon thousands of views. Jay and his crew are at the pinnacle of this "modern day, old school" wrestling media phenomenon. Fans constantly get in touch, asking about the next instalment of OSW Review, and they cannot create it quickly enough for them.
Business is going so well, that OSW Review had to move in to a new premises so there would be enough office and creative space to keep making the video podcast! With the current rate of growth and change, it would be usual to see some stress or practical issue raise its head. Though, when asked about his biggest challenge, Jay surprisingly answered: "The biggest challenge... is explaining to people what I do for a living. Even my family still don't understand what I do!"
You can check out OSW Review at oswreview.com and: https://www.youtube.com/user/OSWreviewHD
(All images courtesy of OSW Review)